Spider Growth and Reproduction
This page summarizes the typical growth and reproduction patterns exhibited by spiders.
---

Although spiders are like vertebrates in that they produce new individuals by combining a male's sperm with a female's egg, mating and the growth of newly hatched spiderlings have some noteworthy differences. These are described below.

What is the typical growth pattern for a spider?
Many insects have a life cycle that involves four visibly very different stages: the egg, larva, pupa and adult, and the dramatic transition from one stage to the next is known as metamorphosis. No true spiders have a similar growth pattern. Instead they are similar to egg-laying vertebrates in that they increase in size progressively without major changes in overall appearance. However, a difference from vertebrate pattern is that their growth is discontinuous because they do not have an internal skeleton. Instead, their entire bodies, apart from the abdomen, are enclosed in a rigid exoskeleton. This provides some protection against mechanical injury and desiccation but it also means that an immature spider is imprisoned and cannot grow bigger except by bursting out of its exoskeleton, a process referred to as moulting or ecdysis. A typical spider moults at least five times (or many more for long-living mygalomorph species) before reaching maturity, at which time all males and most araneomorph females normally also cease moulting. In general, each intermediate growth stage looks reasonably similar to the adult but lacks fully developed external genitalia.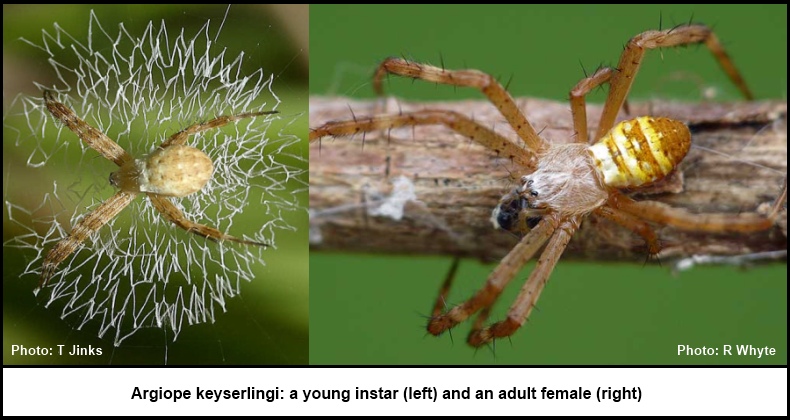 How does moulting occur?
It is currently accepted that to perform a moult a spider accumulates fluid within the cephalothorax until the increased pressure there causes the carapace to detach. The spider can then expand out of the old cephalothorax and somehow manages to draw the legs out of their old tubes as well. The thin cuticle around the abdomen is easily discarded and the spiderling quickly increases its body size before a new exoskeleton forms to imprison it again. A newly moulted spider generally looks paler than otherwise and is also at a greater risk of injury and desiccation until its new exoskeletion has hardened completely. It is not clear what triggers moulting but possible mechanisms include the arrival of favourable weather conditions such as fog or rain (at least in the case of mygalomorphs) or the presence of a member of the opposite sex. Environmental changes are presumably detected by the spider's nervous system but the proximity of a female probably induces moulting of the male by pheromone release.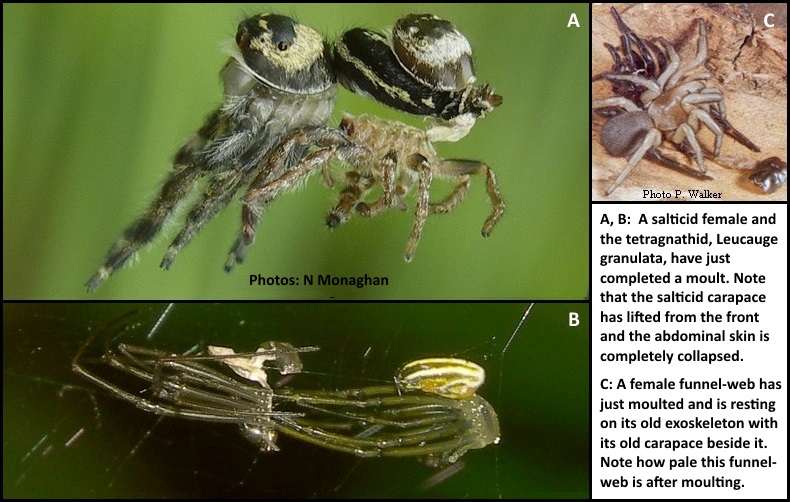 The genital structures of spiders
Like egg-laying vertebrates female spiders have a pair of ovaries and an abdominal passage that delivers eggs to the exterior in somewhat the same way as the uterus of a vertebrate does. However, the fertilisation of these eggs is significantly different. Mygalomorph spiders and also some araneomorphs are described as haplogyne in that their genitalia has only half the anatomical complexity that the rest of the spiders (known as entelegyne species) have. Haplogyne species have a very small crevice between the book lungs (first pair in the case of mygalomorphs) and just in front of the epigastric furrow that runs across the ventral side of the abdomen. Within this crevice are the entrances to two small, blind sacs called spermathecae and it is into these sacs that the male deposits sperms during mating. Shortly afterwards the female expels eggs down into the 'uterus' and these are fertilized by sperms that travel back down from the spermathecae via the same passage used to place them there in the first place. None of these internal structures are visible on a living haplogyne spider.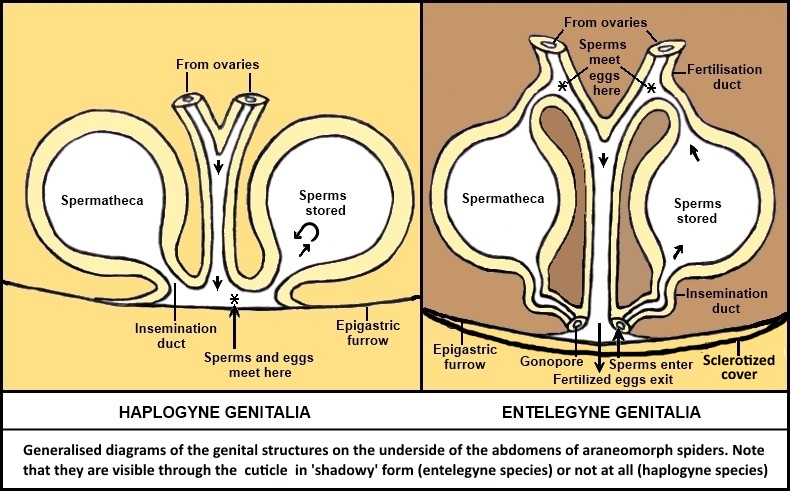 On the other hand, entelegyne species have two copulatory openings (gonopores) that lead into a pair of spermathecae via insemination ducts and a second pair of passages (fertilisation ducts) that carry the sperms into the uterine tube. The anatomical arrangement of the female genital system, whether haplogyne or entelegyne, is sufficiently different for each spider species that only a male of the same species should have genital apparatus with an anatomy that will allow a successful mating. It is for this reason that the appearance of the male and female genitalia are critically important for the determination of the correct species name of entelegyne spiders. Being within the abdomen the female genital system cannot be seen, except in shadowy outline. Its location is delineated by a darkened sclerotized area called the epigynum which overlies it but is only obvious after adulthood has been achieved, though it may be visible in paler form on the penultimate instar. Hence the presence of a clearly formed epigynum is a useful indicator that the specimen being examined is actually an adult and not a juvenile.

Although adult male spiders are like vertebrates in having a pair of abdominal testes, their genital apparatus only vaguely resembles that of a typical male vertebrate. They do not have a penis but instead use a needle-like appendage called an embolus. This is located on the end of each palp and serves to deliver sperms into the female genital entrance. The palps of adult female and immature male spiders look like miniature walking legs and have the same seven segments found on each walking leg. However, when the males are only one moult before adulthood the terminal segments of their palps start to swell and appear very different once this moult has occurred. The metatarsus is no longer apparent but the tibia and tarsus are now reshaped for the purposes of mating. A structure called the cymbium and shaped somewhat like a hand with relaxed fingers holds a bulb-like container from one side of which the embolus projects. This tube is typically flexed backwards but may also be bent into one or more loops. Within the bulb are coiled tubules that during mating are filled with sperms and seminal fluid. The shape of this mating apparatus, including some additional projections known as apophyses that are there to aid in the insertion of the embolus into the female genitalia, are once again virtually unique to a single species and therefore are widely used for taxonomic purposes. Adult males of some species also have mating spurs on the first or second pair of legs which generally serve to protect the male from the female during mating and also have taxonomic value.

The testes of a typical male spider are described as elongate strings of tissue that are deeply embedded in the glandular outpouchings of the midgut and sometimes in the silk-secreting glands as well. At least for the few species that have been studied so far, it appears they commence sperm production shortly before the maturation moult then continue it indefinitely, although those species with a short breeding season that is almost invariably followed by death may cease making sperms even before they mate. Sperms and seminal fluid (possibly from accessory glands) are driven along a convoluted, contractile tube that is the spider's equivalent of a vas deferens and released into the epigastric furrow. To prevent losses the sperms are immediately collected into a small sperm web the spider has spun over the epigastric furrow for this purpose. The male then bends his body so the palpal embolus can be inserted into the ejaculated sperms, which are thought to enter and be stored in the palpal bulb by contractions of muscles in the bulb or perhaps by capillary action. At least for a few species the embolus may then be left in the female's insemination duct as a plug.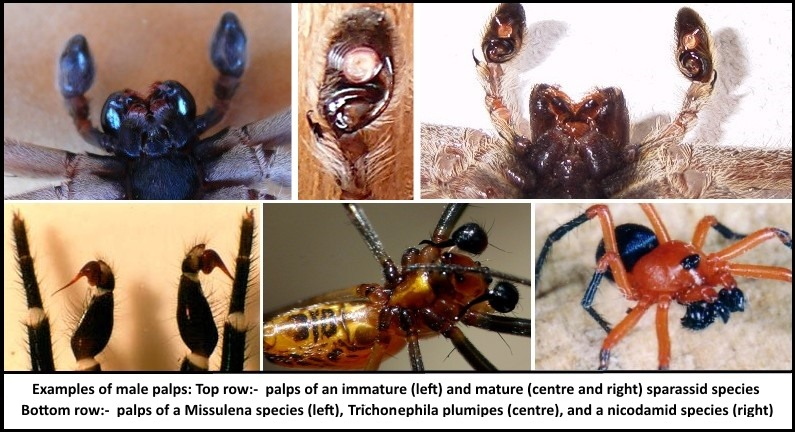 Mating and egg laying
The behaviour of males and females during mating is discussed on a separate page that deals with colonial behaviour among spiders and therefore will not be described here. It is known that for most spiders the male is attracted to the female by pheromone odours she releases. This was well demonstrated by the traps designed by Toowoomba naturalist, Pat Walker, who was able to capture large numbers of Hadronyche infensa males during the breeding season using these traps. The author of this website also built and used several of these traps with similar success. Very little is known of the chemistry of the pheromones used by spiders for attracting males during the breeding season or of the nature and location of the receptors the male uses for detection of these substances.
However, the recent publications of A.C. Gaskett (see reference below) have provided some fundamental facts that deserve mention here. In most cases the females are the emitters of sex pheromones and the males are the ones that respond to them. These chemicals are either lipids or lipid-soluble compounds since for at least one overseas species it was observed that females able to feed on lipid-rich prey had a greatly increased ability to attract males. Curiously, these pheromones may not always be entirely species specific. They are released from the female's cuticle or silk and appear to be detected by receptors on the palps of the adult males. It is suggested that the females may release a volatile type of pheromone to initiate searching behaviour in males of that species and a contact type that induces courtship behaviour once the males manage to find their females.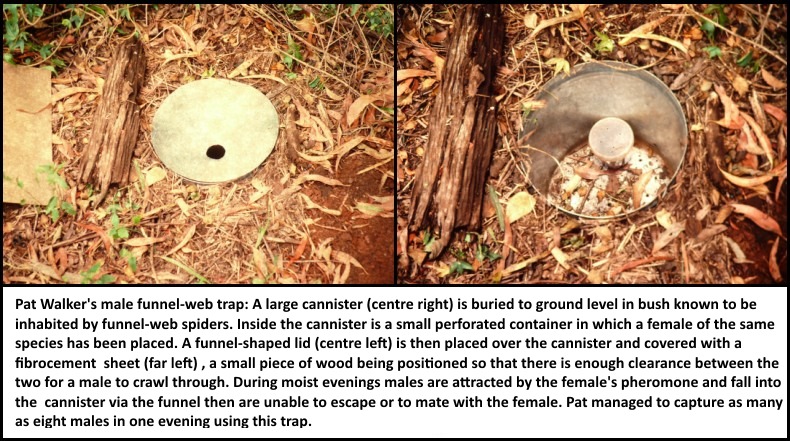 A gravid female has an obviously distended abdomen which shrinks dramatically once she has laid her eggs. The actual egg-laying has rarely been photographed but the females of most spider species deposit their eggs in silken sacs, fluffy masses of webbing, or relatively tough and rigid containers of a variety of shapes. Silken sacs are mostly built in retreats under bark or in rolled up leaves or perhaps inside a burrow of some kind. This arrangement provides a great deal of protection but the female is also likely to remain nearby to defend the eggs and sometimes to nurture the early instars. Eggs that are enclosed in a fluffy ball of silk or a tough casing can be left exposed and undefended without too much risk. Indeed, the latter can even be dragged around by a wandering female such as a lycosid or pisaurid with minimal damage. Daddy-long-legs spiders such as Pholcus phalangioides are unusual in carrying in their mouthparts a bundle of eggs that are held together by just a few strands of silk. Presumably, the outer layer of each egg is constructed in such a manner that it is not at too much risk of desiccation.



Growth of lost limbs
Like humans, spiders are able to maintain many tissues and organs by replacement of worn out cells. They probably cannot replace whole organs but are notably different from us in that they do have some capacity to replace a lost leg. How and why this occurs are yet to be determined but it is known that a new leg will often grow out of the stump of a lost one, though it normally never reaches full size. The fact that it is much easier to find a spider that has lost a leg than one that has a partly regrown on indicates that this regrowth is slow and most spiders that lose a leg die before growing a new one.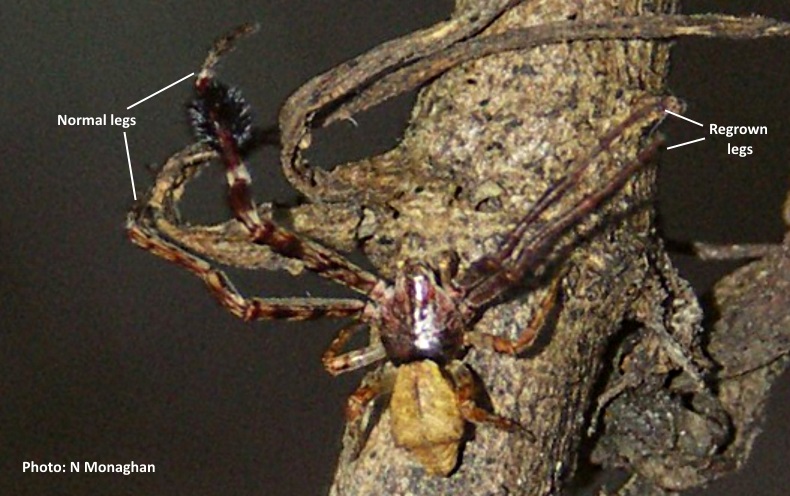 Some related sources of information
The page on colonial behaviour of spiders contains some information relevant to what is covered in the above paragraphs. In addition, the following are worth reading:

Norman Larsen, writing in Biodiversity Explorer, published by Iziko Museums of Cape Town

Bernard A. Huber (2002) Functional Morphology of the Genitalia of the Spider Spermophora senoculata (Pholcidae, Araneae) in Zollogischer Anzeiger - a Journal of Comparative Zoology published by Elsevier

Salomon M., Mayntz D. and Lubin Y. (2002) Colonial nutrition skews reproduction in a social spider" published by the Life Sciences Department, Ben-Gurion University of the Negev, Israel

A.C. Gaskett (2007) "Spider sex pheromones: emission, reception, structures and functions," Biological Reviews, 82, 27-48



---
Email Ron Atkinson for more information. Last updated 30 December 2009.