Spider Hazards
This page examines the more common hazards spiders face in their normal environments as well as the hazards they present to other kinds of animals.
---

While spiders are greatly feared by many humans their normal prey are much smaller creatures, some of which are equally willing to prey on them. This page examines the use of venoms by spiders to immobilize their prey and the ways they protect themselves from predators and other environmental hazards. For convenience, all comments about those venom components of Australian spiders that are recognized as hazardous for humans have been placed on the separated page of this website titled Spider Venoms.

What are the main hazards Australian spiders face?
Although many humans regard all spiders as dangerous and kill them with no consideration of the degree of hazard each particular species actually presents, the reality is that most spiders are dangerous to insects and other spiders but virtually harmless to large animals. Indeed, spiders are relatively fragile creatures and need to find ways to survive a wide range of hazards they will be have to deal with from time to time. The following is a comprehensive but by no means complete list of these hazards:

1. Desiccation. Different kinds of spiders vary greatly in their tolerance of dry environments. In general, mygalomorphs need a habitat in which the humidity is relatively high and they therefore spend most of their lives in a burrow, venturing out only in the evenings and especially when it is raining. On the other hand, some mygalomorph species, including the funnel-webs and also Homogona pulleinei, can survive only in rainforest locations or at least in habitats where the annual rainfall is quite high. On the other hand, many Australian trapdoor and tarantula species are found only in semi-arid inland locations. Araneomorphs generally are better adapted to habitats that promote desiccation but even they tend to avoid exposure to strong sunlight and dry air currents. Since spiders depend almost entirely on water obtained from their prey and from their own metabolic activities, their behavioural patterns frequently reflect an awareness of a desiccating environment and a desire to avoid becoming too dehydrated.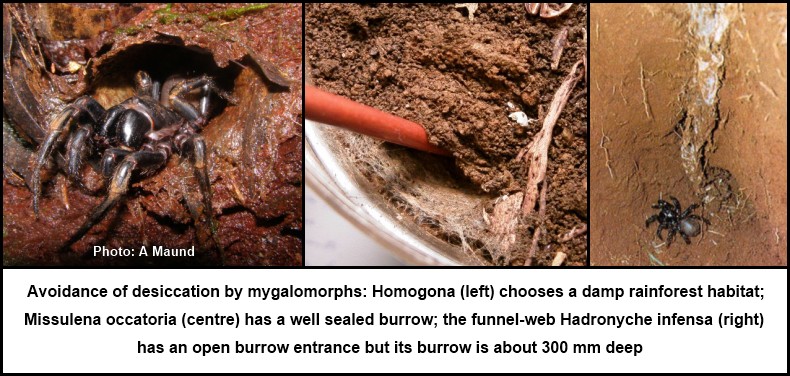 2. Extreme temperatures. Spiders are cold-blooded and therefore are inactive when their environment is very cold. Indeed, freezing conditions are lethal for spiders but most species have disappeared even before the temperatures have fallen that far. In Australia, most of the adult orb weavers disappear from their webs as the cold days of winter approach. However, this may be at least partly because they are no longer able to catch insects to feed on or they have laid their eggs and do not normally live longer than one year anyway. If spiderlings have hatched out in autumn many will die as the environmental conditions deteriorate but a few manage to find sufficiently protective habitats to be able to survive winter and enjoy an early growth spurt in spring.

3. Starvation. Spiders do not need to eat every day but will slowly die of starvation if unable to find food for many weeks. This is usually not such a big problem for the long-living mygalomorphs and those araneomorphs that effectively hibernate during the winter months but it is a very real possibility for exposed species that fail to find any prey during late autumn and early winter. Similarly, in districts that are experiencing drought conditions the insect population will often be severely depleted so the spider numbers will also reduced and those individuals that can be found will mostly look undernourished. There is not much spiders can do about such vagaries of the weather except perhaps to attempt to mate only when the environmental conditions seem to favour survival of themselves or their spiderlings.

4. Accidental mechanical damage. Although many humans are fearful of the prospects of a spider-induced injury the reality is that spiders are more likely to be harmed by humans than humans are by them. Spiders have bodies that are really rather fragile and while they can tolerate the loss of a leg or two accidental damage to the carapace and especially to the soft abdomen is usually fatal. Thus, when two tree branches rub together during strong winds some spiders (and particularly the larger ones) are at risk of mechanical injury if caught between them. On the other hand, falling from a high position is almost never harmful for spiders because they can extrude dragline silk so quickly they normally land very softly. Either the extruded silk acts like a parachute or remains attached to the perch they fell from so they can simply climb back up as soon as they perceive the dangerous situation has resolved itself.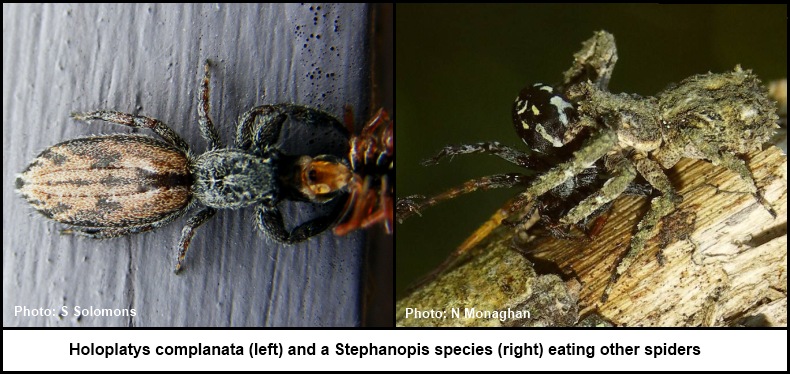 5. Attack by other spiders. As mentioned on the page about what spiders eat, most spiders prefer a solitary life and will attack other spiders, even ones of the same species such as their own male counterparts, if they venture too close. Indeed, a number of genera even choose to deliberately prey on other spiders.

6. Attack by mites and internal parasites. There is little evidence that spiders are greatly at risk of communicable infections though this possibility has never been ruled out. What is more certain is that some spiders, and especially those that live in leaf litter or in burrows in the ground, are at risk of attack by parasitic animals. Several wasp and fly species are known to attack spiders, laying their eggs within the bodies of the spiders or in their eggs. When the larval parasites hatch out they grow by feeding on the tissues of the spiders, which eventually suffer lethal damage in consequence. Thus, if you find a spider with an abdomen that is swollen in a non-symmetrical fashion this is probably because it contains a worm that has grown to the stage where it is now occupying a large part of the space within the spider's abdomen. Burrow-dwelling mygalomorphs are also subject to attack by mites that do not penetrate their cuticle but feed off its surface, thereby gradually weakening it and compromising its integrity.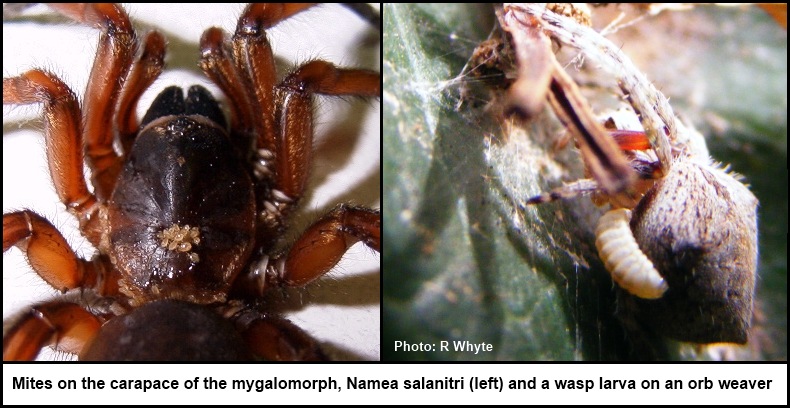 7. Predation by wasps. In Australia there are several species of wasps (some of them often referred to as hornets) that prey on spiders which they paralyse with their venom then store in their nests to be used as food for the wasps' larvae. Probably the best known examples of this are the mud-dauber wasps. These make oval nests out of mud and fill them with spiders that are alive but totally inert. After laying at least one egg in each nest the wasps close the nests and leave the larvae to hatch out, feed on the spiders and then break out of the nest as adults. Mud-dauber wasps are both strong and skilful and are often seen carrying captured spiders that are much larger than the wasps themselves.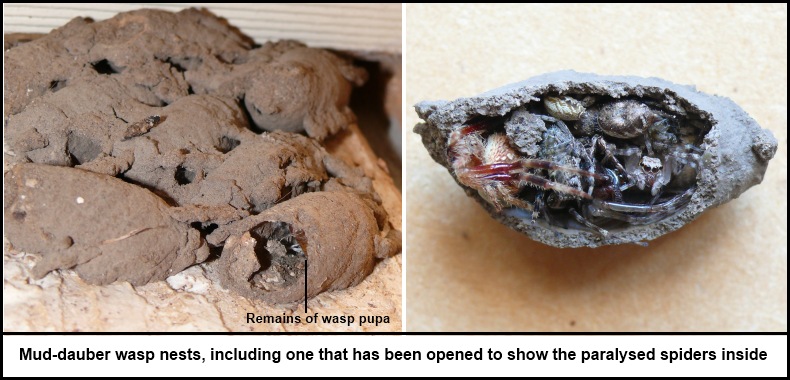 8. Predation by vertebrate animals. While parasites and parasitic wasps are significant hazards for spiders, an even greater threat for those spiders that choose to live in relatively exposed habitats is attack by vertebrate predators. The latter include many species of birds but also amphibians, reptiles such as small lizards, and some mammals, notably including bandicoots which seem to be able to eat even male funnel-web spiders without coming to any harm. It can be argued that spiders fear predation by these large animals even more than they do attack by wasps and other small predators and that avoidance of attack by vertebrates is one of the reasons why spiders are generally more active during the evenings that in full daylight.

What changes in appearance or behaviour have allowed spiders to cope with these various hazards?
Perhaps the most widely employed defence spiders use against attack by any kind of predator is excellent camouflage. Many spiders match their colour to that of the bark, leaves or flowers on they are resting. If they also have body surfaces with a matching texture they can almost 'disappear' when they stop moving. Thus, it is common practice among spiders to run in short spurts but be completely motionless between movements. Just as useful is a body shape that looks like something other than a typical spider. Thus Tetragnatha and Miagrammopes species look like twigs, one of the Carepalxis species looks lke a gumnut, Poltys species resemble broken ends of dead twigs, and Celaenia excavata is a good match for a bird dropping. Some spiders also have adopted an appearance that other creatures might find dangerous, such as the ant mimics like Myrmarachne and Ligonipes. Araneus praesignis and Amyciaea albomaculata don't really look like dangerous creatures but the the presence of what look like large eyes on the rear of the abdomen is probably disconcerting to many possible predators who think the spider is watching every move they make.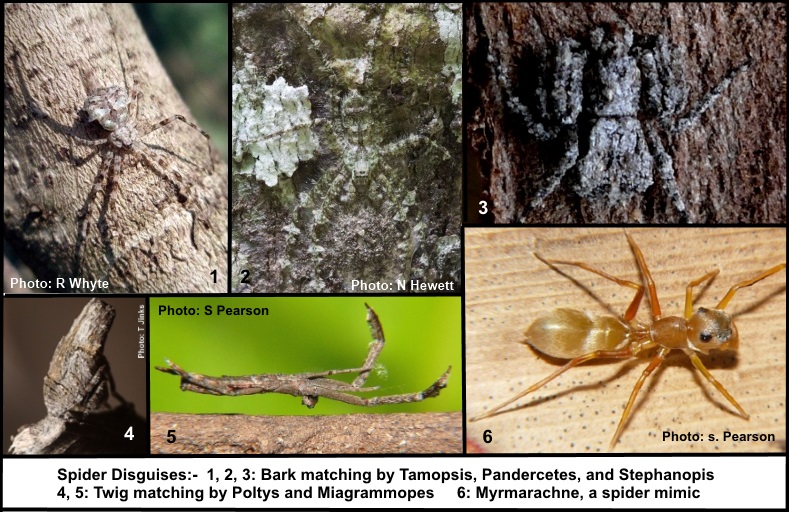 'Fight or flight' behaviour is also widely employed by spiders. Australian funnel-web spiders all rear up in an aggressive stance when approached, a practice also seen for the idiopid trapdoor, Euoplos, although the latter species does not have a toxic venom to support its threatening posture. Pholcids like Pholcus phalangioides simply shake their web when attacked, presumably hoping to frighten or at least confuse an attacking predator. However, a much more common response to the approach by a predator is to simply run away and hide. Large orb weavers such as Eriophora and Nephila run up their webs when threatened, hoping to reach a point that will be too high for a predator to reach them. Huntsman spiders normally just jump from the tree trunk or similar structure they are on and disappear into the leaf litter or grass below. Jumping is particularly likely if the species is one that can quickly produce a dragline that it can ascend later once the danger has passed. Many other smaller kinds of spiders simply head for the nearest crevice and hope the predator will not be able to follow.
Of course, most spiders do have some active defences of their own. The majority have venoms that are effective against insects and other spiders even if they are almost harmless to humans and thus they will bite if forced into battle. The nature and effectiveness of such venoms is considered on the venoms page of this website.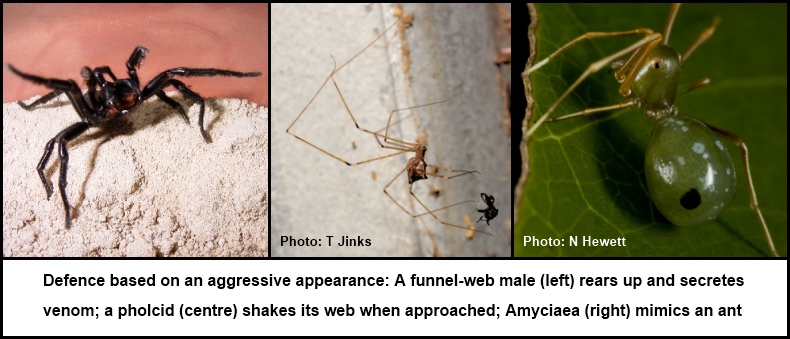 Some related sources of information
The pages on colonial behaviour of spiders, what spiders eat, and venoms all contain information relevant to what is covered in the above paragraphs.


---
Email Ron Atkinson for more information. Last updated 30 December 2009.